What is IPTV Middleware and what is it used for?
Wikipedia defines middleware as a type of computer software that provides services to software applications beyond those available from the operating system. But what should be linked in IPTV? When service providers start IPTV projects, they often don't understand why Middleware is required and why do they have to pay for it. Middleware functionality is not obvious, but very important. Let's figure it out.
In the past
During the era of analog TV, the user could set up the channel list by himself. There were not many channels. It was easy to scan frequencies and assign them to necessary buttons. With the transition to digital broadcasting (DVB), the picture quality has improved, multiplexing allowed to place several channels on one frequency. But broadcast technology in DVB also allows users to scan frequencies and automatically generate a list of channels on the TV set or receiver.

Basically, IPTV can be organized in a similar way. Of course, we do not recommend users to scan the IP network in search of a multicast, but the playlist can be built into the set-top box on a factory, and access can be controlled using classic card-based conditional access systems (CAS). The first IPTV systems worked like that, but this approach has quickly reached an impasse. Such systems simply did not give any advantages compared to classic TV.

How to implement VoD, or record a program? Even editing a channel list comes to a problem. Receivers must be CAS certified. Where to insert a smart card for watching from a smartphone?
Read our article about DVB signal descrambling.
But IP networks have a reverse communication channel - from the subscriber to the provider. And this had to be used. Making a decision to place the channel list on a remote server so the user devices could update it periodically can be considered as the birthday of IPTV Middleware as a class of services.

What functions does a modern Middleware system perform?
Content and everything about it
Middleware system is a storage of information about all the provider's available content. These are not only the names of TV channels and URLs of the streams (It's important to understand that Middleware does not interact with broadcasted streams, it only transmits their links to user devices.)but also descriptions of movies and topics of programs, presenters and actors, participants and athletes, film studios and ratings, icons, posters, trailers, and many more. This is called "metadata". It is used to improve the user interface, allowing subscribers to add cross-references and form recommended content. The set of metadata may be different, but the Electronic Program Guide (EPG) is a must-have for any modern IPTV system.

Without Middleware system, it is impossible to provide VoD (Video on Demand), CatchUP TV и TimeShift.

It is not enough just to upload files with movies on the server, or to send streams of TV channels for recording. It is necessary to generate correct links to recorded programs and update them in time when old recordings are deleted. Movies should be in a catalog where users can find them using search or metadata. All above are also the Middleware's duties.
AAA
Any type of content - TV shows, movies, music - is the private property of authors and is often created for getting a profit, that is, it can be provided on a paid basis. Providers can create packages of channels and VoD content, and assign different tariffs in billing. Depending on the paid subscription, billing sends data to Middleware about what can be opened for a specific user. Some contents may have restrictions, for example, age ones. Therefore, the system needs to make sure that the user has the right for watching- to perform Authentication and Authorization (is this really our subscriber, and what are his access rights). Additional checks are also possible during the use of services, for example, a request for a special password (parental or financial) for viewing or purchasing special content.

And for sure the system must perform Accounting of consumed resources. Accounting data can be passed to billing for tariffication of services or it can be a source for a recommendation service. Using this data, providers can also monitor statistics of TV viewing, determine popular and unpopular channels for understanding on which of them is it profitable to display ads.

Advertising is important for monetization, and thanks to Middleware, you can target it, showing in the interface as banners or running text and not be afraid that users will switch the channel. But we will discuss this in a separate article.
The diagram below shows examples of systems and devices that interact with Middleware in NetUP solutions.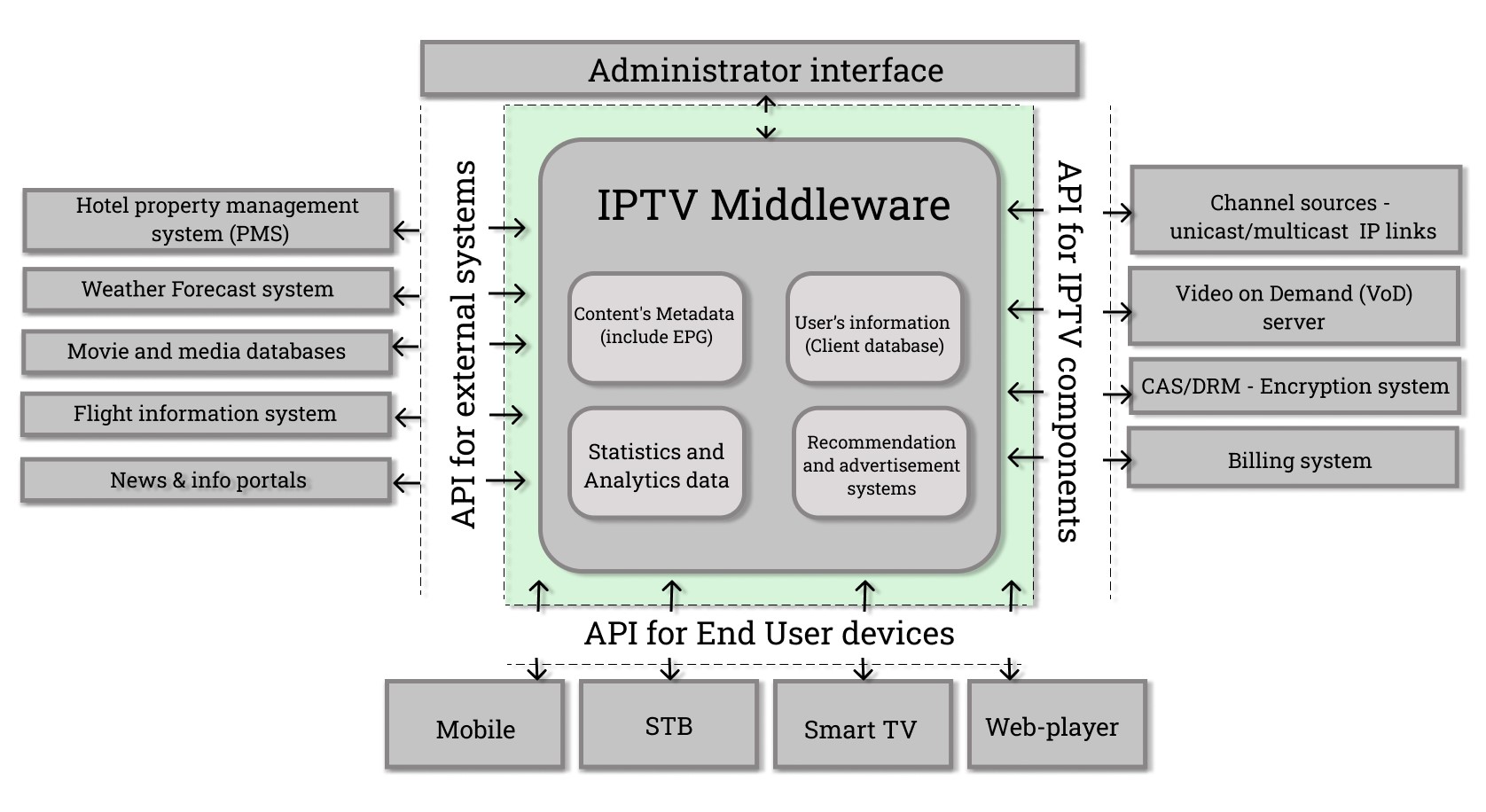 What if not a provider?
Corporate TV differs significantly from the provision of services by a provider. It may not contain subscribers. A company usually owns the content, so it doesn't need to be protected, billed, etc. Why would a Middleware system be required in this case?

The connection between a headend and client devices can be used for controlling playback remotely - to switch the TV channel or start the desired video on a single TV set or on all screens at once. The tools of (administrator) interface of Middleware allow displaying static information. For example, overlaying graphics for branding. In some cases, Middleware helps to collect and display dynamic content: weather, charts, etc. Differentiation of access rights is useful when you need to give the opportunity of watching any content, for example, at lunchtime, and only certain content during working hours.


Conclusions
Technically, an IPTV project can be organized without a Middleware system. However, in this case, it will be difficult to organize interactive functions which are a key advantage of IPTV over classic digital TV. This approach is not suitable for commercial use; it will not be easy to reach user loyalty without flexible service options. Users are interested in getting all services in one window. This includes the streaming of video surveillance, and information about tariffs, and payments, and adding new services. All this is possible thanks to Middleware.

An important advantage of IPTV Middleware is the ability to integrate with third-party services and systems. The functionality allows easy to arrange data exchange and to provide such services as weather or exchange rates.

The range of all features in Middleware is not just a scale of a platform. These features are the tools for retaining and increasing customer loyalty, and the means of monetization. It is possible to increase the functionality gradually, but in order to retain the first customers, it is better to supply all their needs from the very beginning.